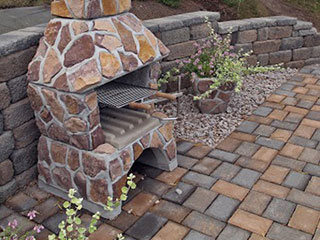 Most would agree that adding a fire pit to your backyard should be easy to maintain. It should also match your lifestyle and have the right size to not feel too big or too small. With the help of our local Los Angeles outdoor remodeling contractors, you can have the luxury of wood burning on an open fire pit or in an outdoor fireplace. We can help you create a beautiful outdoor living space that you can enjoy all year long. Imagine having friends and family sitting around a uniquely designed wood fire pit or an outdoor fireplace. Spending time out in your backyard can stay a viable choice even in winter with this type of outdoor living feature. Imagine the beauty of your backyard enhanced by a custom-built paver fire pit. Whether a wood fire pit or ideas on outdoor fireplaces our local contractors can give.
Outdoor Heating in your Los Angeles Backyard
What do you think of when someone mentions outdoor heating? Would a creatively designed outdoor gas fireplace or fire pit table come to your mind? There are now so many unique and beautifully designed outdoor heating options for someone wanting to be able to spend more time outdoors in Los Angeles all year round. We will offer the perfect setup to maximize your landscape design. We will work with you to fit your needs. Let one of our professionals help you come up with the best choice for your backyard. You can pick all sorts of outdoor heating features to make outside parts of your property more comfortable and convenient even in winter. Free estimates are available from our outdoor heating experts in Los Angeles today.
Patio Fireplaces - Wood or Gas?
With more people wanting to spend time outdoors in the comfort of their backyard, patio fireplaces have become quite prevalent. Imagine roasting marshmallows and hot dogs with your children in an outdoor wood fireplace. The possibilities are endless. And coming up with a unique custom design is what our Los Angeles exterior remodeling contractors can help you with. If you have an idea for a specific design or even have just a slight notion, we can help with that. Your backyard is your sanctuary and we want to help you have a beautiful place to retreat to. With beautiful outdoor heating features, you can add décor as well as utility to these areas.
Propane Fire Pit or Gas Fireplaces
Yes, most people love the smell of an open wood fire pit but a propane fire pit or gas fireplace offers low maintenance and can be just as relaxing. We provide custom designs for all types of needs and lifestyles. Outdoor gas fireplaces and propane fire pits have come a long way in design and ease of use. No longer is there the concern for unwanted odors. Instead, safe use and the beauty of a flame flickering in a controlled environment make relaxing with a fire pit table comforting. Your options are unlimited. Get in touch with us to schedule a free estimate from a Los Angeles outdoor heating contractor near you.