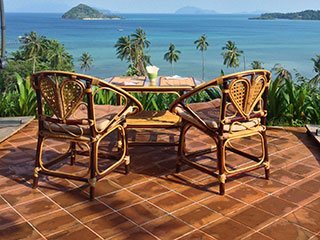 The sheer aesthetic alone makes tiles for floors and walls a very popular design option. But tiling your Los Angeles kitchen or bathroom can also bring about other benefits. Tiles make it easier to clean, due to their moisture-resistant properties. They can help protect the wall from water damage, and some materials like porcelain tiles can also withstand more drastic conditions, making them excellent for a lot of uses. Of course, you can also create beautiful looks with tiling. The aesthetic qualities of floating wood tiles can create a timber looking floor without the extra maintenance that real wood demands.
Ceramic Tiling Choices
The earthy tone of ceramic tiles makes them great for all sorts of natural looks. You can combine these shades with other colors to achieve all sorts of warm and inviting décors. Ceramic tiles come with a much more affordable price tag. Plus, installing ceramic tiles in your Los Angeles property will take far less time than other options. Naturally, there's a downside to every coin. Ceramic tiles don't offer the same level of durability and moisture resistance of porcelain. But they can make for an excellent choice for interior settings, and for low cost but beautiful designs.
Wall Tiles For Bathrooms
Choosing the right tiling for your bathroom goes a long way. Why? Because wall tiles in your Los Angeles bathroom help prevent water damage to the surrounding walls. Shower tiles need to have the ability to get splashed and soaked with water constantly without any negative repercussions. Choosing the wrong bathroom tiles can result in mold growth and spread behind them. That will create a slew of other problems that will end up costing you a lot more money. So investing wisely to save money in the future is very much recommended.
Porcelain Tiles – Quality, Aesthetic, and Durability
The pearly white of porcelain tiling has made this option hugely popular. But other properties have also made porcelain tiles popular around the Los Angeles area and all over California in general. Porcelain tiles offer superior moisture resistance qualities, and their structure offers far more durable results than, say, ceramic. Porcelain comes in a natural white color that adds a great deal of aesthetics to the room. You can often find porcelain bathroom tiles, but outdoor tile installation is also an option with porcelain. The enhanced durability makes this material a viable choice for many uses.
Floating Wood Tiles – Beauty Without Maintenance
Many people love the aesthetic of a hardwood floor. But that comes with certain maintenance needs, and a hefty price tag too. With laminate floating wood tiles, you create a wood-like aesthetic, but with tiling instead of real timber. That lets you cater to all sorts of classic décors, without worrying about water damage and alike. Laminate floating wood tiles flaunt a textured look that mimics the aesthetic of wood. Many people choose them for their Los Angeles residences as well as businesses. Laminate tiling really brings a unique edge in terms of aesthetic to any floor or wall. And you save money on maintenance that regular wood would require.
Free Estimates From Los Angeles Tile Installers Near You
For those interested in more information about tiles for floors, walls, and outside, we provide in-person consultations, free of charge. Talk to our local tile installation contractors and see what huge variety of tile designs you can pick for your commercial space or residence. We'd love to show you samples of our tiling designs for kitchens, bathrooms, and other spaces. And with a free estimate, you'll see just how affordable and beautiful things can turn out. Get in touch with us to book a free estimate on tile installation for any Los Angeles area house, office, or other.