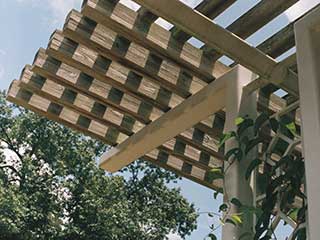 What better way to improve your home than with a gorgeous new pergola or gazebo? A wood gazebo is a great way to add comfortable, beautiful living space to your property. You'll gain more space to relax, enjoy, and entertain guests. You can even install an outdoor kitchen, safe within a strong, well-built gazebo. Custom LA Decks & Shades is the go-to team of contractors who build outdoor shaded structures around the Los Angeles area. If you're looking for an amazing gazebo or pergola at a fantastic bargain price, then get in touch with us for a free quote. You can choose a wide range of wood or composite pergola materials. This, combined with custom made shades (motorized and manual), and you got an excellent outdoor living addition to your backyard.
Patio Shade Structures
Outdoor spaces are perfect for spending time in during the summer or winter seasons. Provided that you've got sufficient shade and protection from the elements. You can get access to fresh air, warm sunshine, and all the health benefits these bring, without having to worry about sunburn or overheating. We build and install patio shade structures of all types. If you're looking for a patio gazebo, then we have a huge array of options to pick from. We offer a range of different sizes, including gazebo 10 x 10 designs that are ideal for any home. You can pick from a wide range of different materials, too, to find the perfect match for your property. Cedar pergolas are an amazing addition to any home. This wood has a beautiful grain and is very aesthetically pleasing. That's not all, though. We have a wide range of wood gazebos to pick from, so you can be sure of finding something that works for you.
Custom Gazebos and Pergolas For Los Angeles Properties
Many local homeowners have special requirements. Thanks to our many years of experience in fitting gazebos, we can easily find a perfect solution for any requirement. For instance, we offer a range of dedicated deck pavilions. These integrate into your existing deck design, providing you with unparalleled protection from the sun. Pergolas with a canopy are also a popular choice. These combine effective protection from the sun with the beautiful design of our wood pergolas. Many Los Angeles homeowners choose a pergola with a canopy to add a little extra style to their property, and we think it's a brilliant addition. Once your new pergola is in place, you'll be amazed at the difference it makes. You can even speak to our experienced contractors to discover the huge range of pergola ideas we can facilitate.
Pergolas With Motorized Canopies
We here at LA Custom Decks & Shades can help you to bring your yard into the 21st century. Our range of pergolas with canopies can also be fitted with motorized covers. A motorized pergola canopy is an amazing addition to any home since it combines beauty and protection with effortless convenience. With just a press of a button, you can easily shelter from the sun, making this a perfect centerpiece for your property. Prices for motorized pergola canopies are much lower than you might think when you buy from us.
Get a Free Estimate On a New Gazebo
Almost any yard or deck can be improved with a high-quality pergola or gazebo. Explore our range of amazing outdoor shade structures to see how your Los Angeles home could benefit. From motorized pergola canopies to big gazebo structures with roller shades. We custom build outdoor shade structures for commercial and residential properties. Call us or use our online contact form to book a free estimate on custom gazebos and/or pergolas.