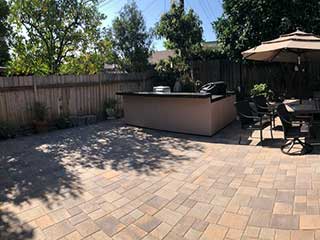 What better way to enjoy your backyard patio and deck than with an outdoor kitchen area? This lets you dine alfresco whenever you want. And the hardscape aesthetic is simply wonderful! Complete with BBQ islands and grill stations, you can enjoy your outdoor kitchen throughout the day or night. We build paver patios with lighting pillars and bricks, making your lounging area enjoyable 24/7. Add water features to your outdoor kitchen deck or patio and you can prepare and cook food outside with simplicity and fun. Our Los Angeles deck contractors can build you a wide range of outdoor living features to go on your patio deck. Simply tell us what you want and we'll design a custom outdoor kitchen idea together.
Custom Outdoor Deck Kitchen Ideas
A beautiful custom deck area added to your patio raises the aesthetics of your backyard. And a deck with an outdoor kitchen setup does that while also improving the utility. Enjoy cooking outside and preparing food with wooden outdoor kitchen islands, cabinets, and even sinks with water features. Looking for a more hardwearing option? Our paved outdoor kitchen setups can fit paver patios and wooden decks alike. You can choose all sorts of designs and features for outdoor living to add to your Los Angeles backyard or front lawn. Our professional decking contractors specialize in building a wide range of living features for outdoor kitchens. You can designate grill station spots or have them built from fireproof materials. We'll install gas connections and any other outdoor living feature you need.
Wood & Paver BBQ Islands
Cooking outside is fun as heck. But you know what's even more enjoyable? Preparing the food outside too. No more traveling between the house and the backyard. With an outdoor BBQ island from wood or stone, you can start and finish your meal preparation and cooking outside. We create beautiful hardscape designs with bricks and pavers for BBQ islands and fire pits. That you can prepare the food and begin cooking it by taking a small step to your side. This keeps the atmosphere happy and you can have the whole family or group partaking in preparations too.
Water Features & Fire Pits For Outdoor Kitchens
As ancient cavemen discovered, to cook food – you need fire. Well, with a safe paved fire pit protected by fireproof bricks and pavers you can do that out in your patio deck without concerns. But you'll want to wash vegetables too, probably, and maybe prepare some other food items that require liquids. Well, with a patio with built-in water features, you can do that too. We build paved and wooden outdoor sinks and food preparation stations with water features. This lets you transform your deck patio into a complete outdoor kitchen. Water, fire, and even – electricity! With paver pillars with lighting or wooden posts with lanterns, you can enjoy dining outside at night under the stars.
Outdoor Living Features For Los Angeles Decks & Patios
You can add all sorts of enhancements to your deck area or brick patios that enhance more than aesthetics. With outdoor kitchens and other living features, your patio deck area can become fully functional for cooking and eating alfresco, day or night. Connect with our Los Angeles exterior remodeling contractors for free estimates on custom outdoor kitchens with full living features!